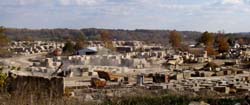 On Tuesday, Nov. 6, Meg and I made a trip to buy some stone. This is a picture of Victor Quarries block yard. These are thousands of blocks of Indiana Limestone. They are situated south of Bloomington, Indiana.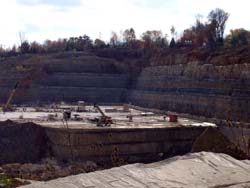 This is the ledge that they are currently working.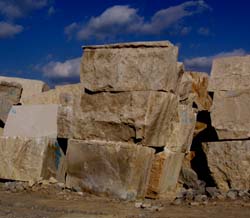 The rows of blocks are a maze. I want to find some carving stone to make several sculpture projects. The choices are overwhelming.

Meg found the perfect block. I kept looking for smaller pieces to make the individual projects. She found this slab-shaped block that weighed 43,500 lbs. It ran between 2' to 3' thick. It is 16 feet long and between 5'-6" and 7' wide. It was delivered by Vessels Trucking on Wednesday, Nov. 14.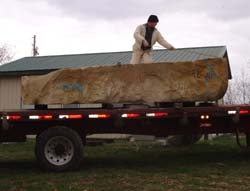 I made measurements and then went home to draw it out to scale. I had a list of projects and their measurements. It was like a jigsaw puzzle to figure out how best to utilize this big block.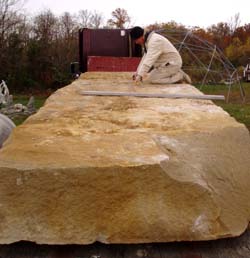 I returned to the rock with my scale drawing and laid out how to divide the stone. It will produce 7 sculptures. The largest will be over 10,000 lbs. The smallest will be 5,000 lbs.