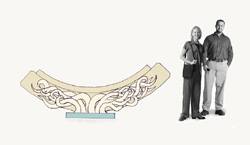 This is the drawing for a functional sculpture that has been commissioned by the City of Green Bay Wisconsin. This design was submitted to an open call for sculptures that would fit the theme of "Life of the River". The composition is intended to resemble a vessel floating in the river current.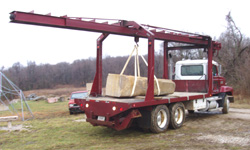 The stone for the project is shown being handled by a monorail truck that is owned by Breck County Ready Mix. The 10,000 pound block was quarried at Victor Oolitic Stone Co. of Bloomington, IN.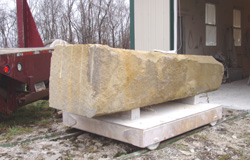 I was able to get a block that had extra volume beyond what the original proposal called for. The block measures 8' long by 3'high (here it is lying on its side) and tapers in thickness from 2' to 2-1/2'.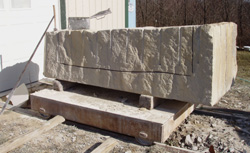 The next day, I transferred the design onto the stone by gridding the scale drawing and stone. I then used a hydaulic chain saw to cut the corners and the circular portion on the top of the design. The 18" bar wasn't able to cut all the way thru from the top.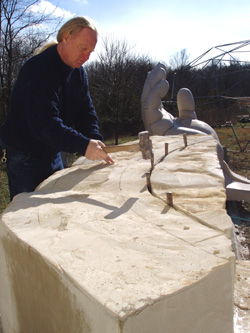 On the day after running the water-cooled saw, I placed metal wedges into the saw cuts and split off the big corners. Here, I am splitting off the circular top section.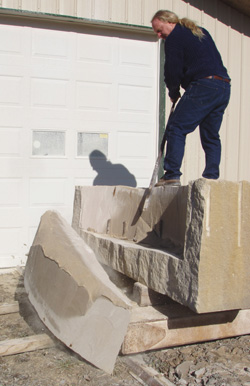 I had to use a prybar to remove the 1,000 pound piece from the top center. There was a total of 5 large pieces that were sawed and split off, reducing the weight by 4,000 pounds. This first step removes a lot of stone quickly and safely.